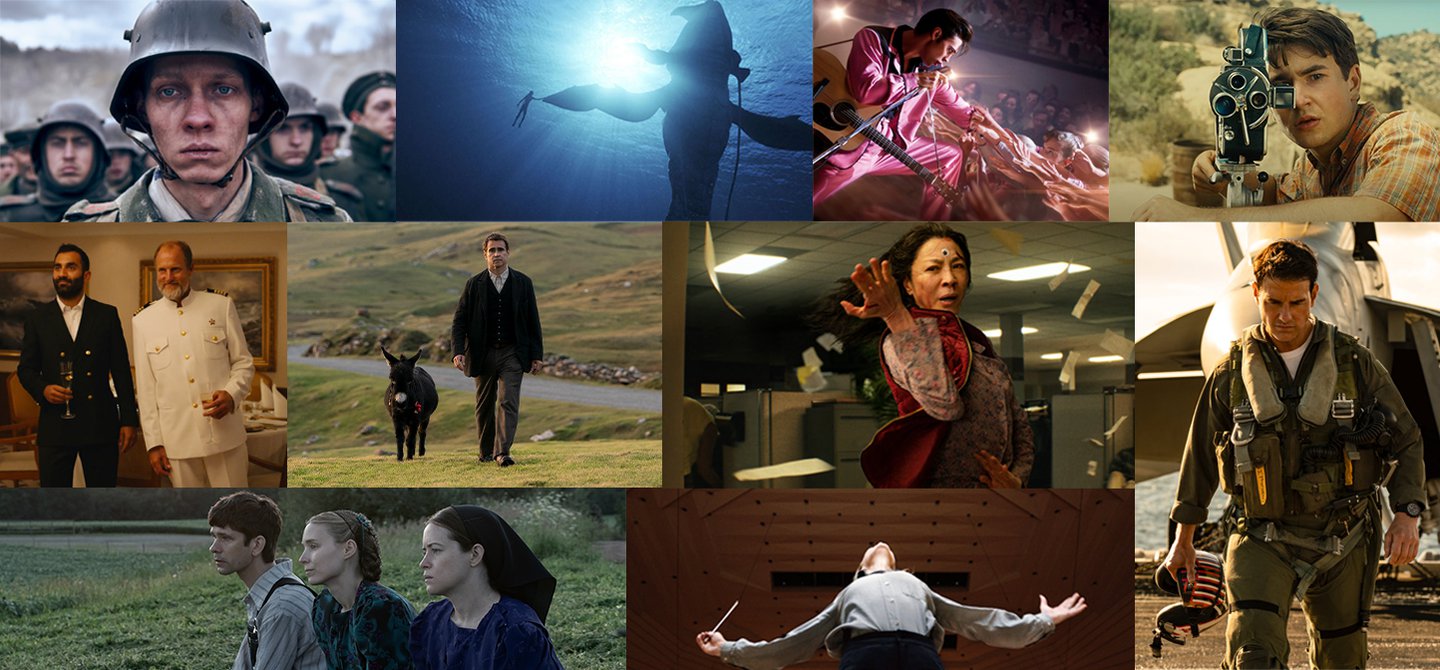 The Oscars 2023 Best Picture nominees

AJ on March 9, 2023
The Oscars 2023 are close! There are a bunch of awesome films that have been nominated for Best Picture. If you're keen to check them out, we've got you covered with our breakdowns on all the nominees' ratings and content warnings, so you know what to look out for before pressing play.
You can find the full list of the nominations here: https://www.oscars.org/oscars/ceremonies/2023
All Quiet on the Western Front
Rating: R16 | Graphic violence and content may disturb
Director: Edward Berger (Deutschland 83, Jack)
Producer: Malte Grunert
Runtime: 147 minutes
Im Westen Nichts Neues (All Quiet on the Western Front) is a German film that follows the trials of Paul Bäumer (Felix Kammerer) and his friends, as the young men sign up to Germany's effort in World War I. Despite their eagerness to be heroes, they are soon introduced to the grim brutality of trench warfare. Read the full breakdown here.
Avatar: The Way of Water
Rating: M | Violence
Director: James Cameron (Avatar, Titanic, The Terminator)
Producers: James Cameron and John Landau
Runtime: 192 minutes
Jake Sully (Sam Worthington) and his family are threatened by a familiar enemy who seeks to kill them and gain control of Pandora. Forced to move away from their people, Jake, Neytiri (Zoe Saldaña) and their children find refuge with a new tribe but eventually have to decide whether to keep running or stay and fight. Read the full breakdown here.
The Banshees of Inisherin
M | Offensive language, nudity and content that may disturb
Director: Martin McDonagh (In Bruges)
Producers: Martin McDonagh, Pete Czernin and Graham Broadbent
Runtime: 114 minutes
A friendship abruptly ends after Colm (Brendan Gleeson) starts ignoring his lifelong pal and drinking buddy, Pádraic (Colin Farrell), without really explaining why. Heartbroken and confused, Pádraic desperately tries to resolve the breakdown of their relationship as things take a dramatic turn for them both. Read the full breakdown here.
Elvis
M | Drug use
Director: Baz Luhrmann (Moulin Rouge!, The Great Gatsby)
Producers: Baz Luhrmann, Catherine Martin, Gail Berman, Patrick McCormick and Schuyler Weiss
Runtime: 159 minutes
Music icon Elvis Presley (Austin Butler) navigates the ups and downs of sensational rock and movie stardom accompanied by his manager Tom Parker (Tom Hanks). Read the full breakdown here.
Everything Everywhere All at Once
R13 | Violence, offensive language, sexual references and content that may disturb
Directors: Dan Kwan and Daniel Scheinert (Swiss Army Man, Omniboat: A Fast Boat Fantasia)
Producers: Dan Kwan, Daniel Scheinert and Jonathan Wang
Runtime: 139 minutes
This sci-fi action comedy follows Evelyn (Michelle Yeoh), an exhausted Chinese-American mother, wife, daughter and businesswoman. All she wants is to finish her taxes, until she discovers she's the only person who can save the multiverse. Read the full breakdown here.
The Fabelmans
M | Offensive language
Director: Steven Spielberg (Jaws, Jurassic Park)
Producers: Steven Spielberg, Kristie Macosko Krieger and Tony Kushner
Runtime: 150 minutes
A coming-of-age story about a young man's discovery of a shattering family secret, and an exploration of the power that movies have to help us see the truth about each other and ourselves. Read the full breakdown here.
Tár
M | Offensive language and nudity
Director: Todd Field (Little Children)
Producers: Todd Field, Alexandra Milchan and Scott Lambert
Runtime: 158 minutes
Lydia Tár (Cate Blanchett) is widely considered one of the greatest living composer-conductors and is the very first female director of a major German orchestra. The film follows the downfall of her career after misconduct allegations are made. Read the full breakdown here.
Top Gun: Maverick
M | Violence and offensive language
Director: Joseph Kosinski (Tron: Legacy, Oblivion, Only the Brave)
Producers: Tom Cruise, Christopher McQuarrie, David Ellison and Jerry Bruckheimer
Runtime: 130 minutes
Tom Cruise returns as Pete Mitchell AKA Maverick, one of the Navy's top pilots going on 30 years of service. He is forced to confront the ghosts of his past whilst training graduates for a special assignment. Read the full breakdown here.
Triangle of Sadness
M | Sex scenes, offensive language, animal cruelty, and content that may disturb
Director: Ruben Östlund (Force Majeure, The Square)
Producers: Erik Hemmendorff and Philippe Bober
Runtime: 147 minutes
Yaya (Charlbi Dean) and Carl (Harris Dickinson) are beautiful yet superficial models, who appear to be together to boost their Instagram followers. When they're gifted a trip on a superyacht things turn ugly in this satire on wealth, influencers, capitalism and class structure. Read the full breakdown here.
Women Talking
RP13 | Sexual violence and domestic abuse
Director: Sarah Polley (Stories We Tell, Away from Her)
Producers: Dede Gardner, Jeremy Kleiner and Frances McDormand
Runtime: 104 minutes
The women of an insular Canadian Mennonite community gather to discuss what to do after it is revealed that the men in their community have been drugging and sexually assaulting the girls and women for many years. A majority of the film is set in a hayloft, where the women debate the pros and cons of forgiving, staying and fighting, or leaving the only world they have ever known. Read the full breakdown here.
Links
All Quiet on the Western Front
Everything Everywhere All at Once
Subscribe to our blog
Stay up to date with the Classification Office blog.