A guide to the tools that are available to keep your whānau safe when viewing entertainment online in Aotearoa New Zealand.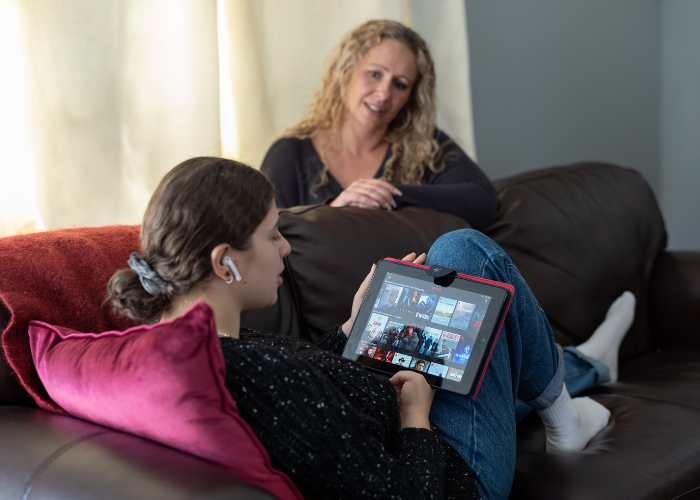 You control what you and your whānau watch, and we can help you with those choices. NZ age ratings and content descriptions displayed on streaming platforms can help you make informed decisions.
You can also control the sort of TV shows and movies your whānau can access by using 'parental controls'. These allow you to set the maximum NZ age rating for your account or profile, and you can have different profiles for different family members.
Tamariki and rangatahi can access virtually any content on their devices: they play games, watch series and films on streaming services like Netflix, and videos on YouTube and social media.
Our latest research found that over half of parents and caregivers with tamariki and rangatahi at home (53%) said they or someone in their household uses parental controls for streaming services. Around a third of parents said they did not use parental controls, and 11% were unsure.
How to use parental controls
Parental control tools allow you to be in control, protecting your whānau from unexpectedly seeing upsetting and yucky content. These settings may also be available cross-platform for things like apps, games, and web use.
Why parental controls are important
We all want to keep our tamariki safe, any time it is screen time. And screen time doesn't just happen in the home. Whether at the café or in the car, on a phone, an ipad, or a laptop, parental controls are your parenting hack.
Parental controls are your safety hack
Parental controls can be useful for rangatahi, whether its when you're having friends over for a streaming party, or those times you're babysitting a younger sibling. We love parental controls. They are your safety hack.
How to access parental controls for each streaming service
Devices
Apple
Apple allows users to set up restrictions for TV shows, movies, and games. TV shows and movies use official NZ ratings. A passcode can be used in order to change the settings later on.
In addition to setting up restrictions for content like movies, TV shows and books, you can use restrictions to block or limit specific apps on mobile Apple devices.
Learn more about setting restrictions on iPhone and iPad.
Android
Parents can set up parental controls in the settings tab of an Android smartphone or tablet, which can restrict downloads and purchases based on Google's rating system. You can learn more about Google's parental controls for Android devices here.
Google also offer Family Link, an app parents can download onto their own phone (which links up to their children's phones), which allows them to keep track of what apps they're using and downloading. You can find out more about the app here. 
When you're using a desktop PC/laptop, be sure to sign out of your Google account if your kids are going to use Google Play Movies without your supervision, or they may be able to purchase and view content using this account.
Internet surfing
Controls for internet content more generally are a little bit more difficult. Spark offers its customers Net Shield, a free internet filtering tool, and Vodafone has a tutorial on how to set up parental controls on their modems. If you're not with Spark or Vodafone, there are lots of other options out there, with software like NetNanny, SafeSurfer, Kaspersky Safe Kids, as well as hardware such as Clean Router.
If you're worried about who your young people are talking to online and what they might be showing them, Facebook has released Messenger Kids. This is a messaging app designed for parents to supervise who their rangatahi are talking to. It also allows parents to review images and videos that rangatahi have sent and received.
Non-technological alternatives
If all of that seems like too much, there are other things that you could try. However, if you want your tamariki and rangatahi to follow these suggestions, they are more likely to do so if you follow them yourself. Like most limitations and rules, they require consistency and communication to build trust with your young people.
Some ideas include:
No devices in the bedroom (rangatahi will still need a quiet space to do homework if they have it).
Designated device-free time zones, such as meal times and during face-to-face discussion. Or flip it, and have designated device time zones.
Limit screen time to a certain amount a day (there are apps for this as well).
No devices one hour before bed (whether you have put a blue light filter on or not).
To find out more about online safety in general, have a look at Netsafe's Online Safety Toolkit.
The world of parental controls is pretty complex, with each media platform offering different options for parents to guide their children's viewing habits. Still, it's great that parents have these options, and we recommend that parents take the time to work out how parental control options work – it's worth it.
Was this helpful?
If you'd like to know more about this topic, get in touch. We're happy to help.