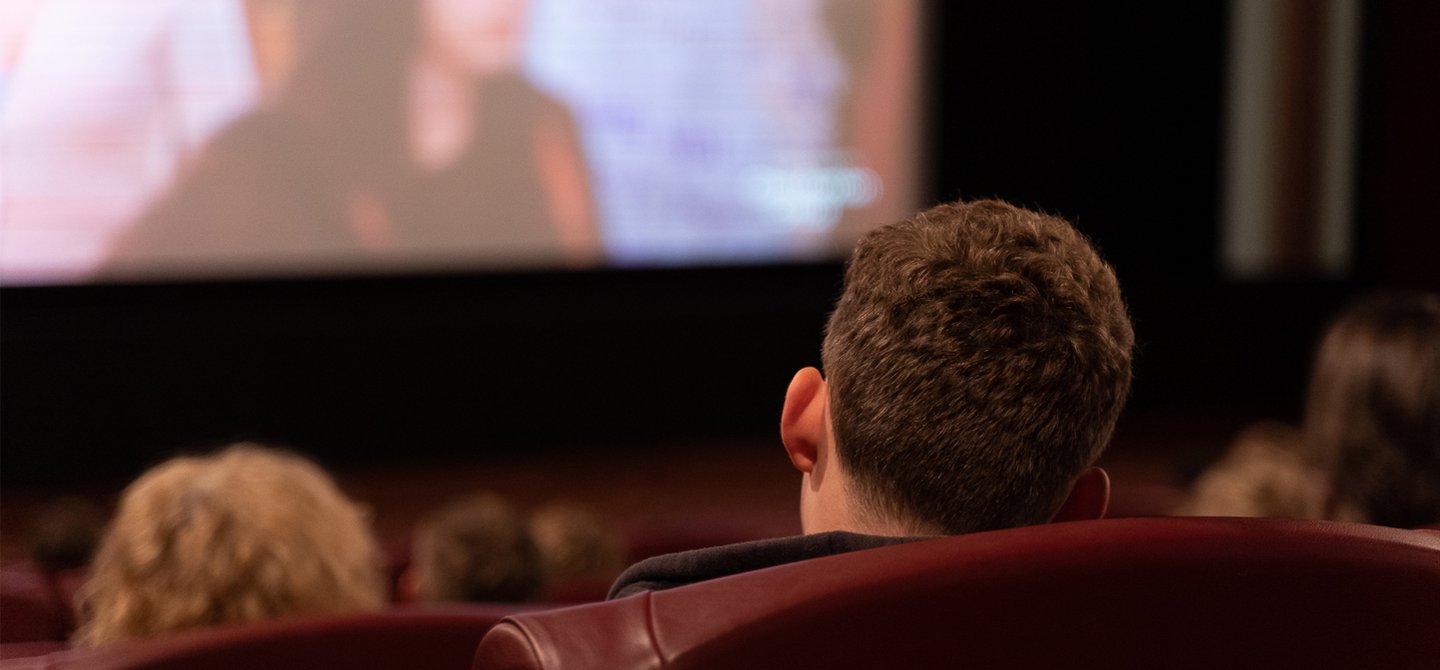 Lights, camera, classification!

Georgia on June 8, 2023
Lights, camera, classification!
In May, over 400 senior media studies students from schools in Ōtepoti Dunedin, Ōtautahi Christchurch, and Whakatū Nelson ventured out of the classroom and into the cinema to try their hands at being film censors for a day.
For 23 years, Te Mana Whakaatu – Classification Office has been organising Censor for a Day, giving thousands of young New Zealanders an exclusive backstage pass into the world of film classification. It's hard to believe, but AJ and I were once attendees ourselves, and now we find ourselves on the stage presenting. Where has the time gone?
Censor for a Day kicks off with an interactive presentation where we peel back the curtain and reveal the way classification decisions are made. To stimulate the students' minds about the potential harm films can inflict, we pose a bone-chilling question: "Which film terrified you as a child, and how did it make you feel?"
The responses always vary, but in recent years we've noticed a trend: Coraline and Monster House have struck fear into the minds of an entire generation of children. Unexpected shockers like Thomas the Tank Engine and Finding Nemo always serve as great reminders that content can affect each of us in unimaginably different ways.
Following the presentation, we unveil a secret treat for our budding film censors: a pre-release film screening. This year, it was the horror comedy film, Renfield. The film is an unapologetic feast of exaggerated gore, featuring copious amounts of blood, dismemberments, and a masterful performance by the one and only Nicolas Cage, embodying the narcissistic Dracula himself.
Once the movie magic subsided, it was time for the students to take centre stage. Engaging in deep, thought-provoking discussions, they were challenged to reflect critically on the film's content and discuss the most harmful elements. Their mission? To determine the film's classification. Te Mana Whakaatu gave Renfield a classification of R16, restricting it to persons aged 16 years and over, with a warning note for graphic violence, gore, and offensive language.
The consensus among the students? As the discussion unfolded, it became evident that while the comedic elements in Renfield provided moments of relief, the unrelenting violence and gore surpassed the limits of what younger viewers could handle, an experience they agreed was best suited to those who had reached the age of 16 or above. Their astute analysis demonstrated a keen understanding of the delicate balance between entertainment and potential harm.
Rangi Ruru Girls' School student Aimee Stanton reflected on the importance of classifications in her life. "I usually look at ratings. Particularly when I'm watching something with my younger sister, so I am a little bit more careful when it comes to watching things with her, or with my mum who gets scared quite easily. Sometimes I even look into it further to find out why they are rated in that way."
Lotte Dawson, a Waimea College student, found great value in understanding the classification process and the role of Te Mana Whakaatu. "It was really interesting finding out the process that goes into working it all out. I didn't realise there was a whole organisation behind classifications and that there are laws they follow."
Crow Smith, another Waimea College student, planned to apply the knowledge in her day-to-day life. "I really appreciated the opportunity. It's going to help me a lot in the future when it comes to selecting films that will suit me because I know that I am personally a bit sensitive and squeamish."
As the curtain closed on Censor for a Day, AJ and I were filled with confidence that the students' newfound wisdom would undoubtedly shape their future movie choices. These young people have transformed from passive consumers into active participants, armed with the knowledge to navigate the cinematic landscape with discernment and care.
Link:
Pupils become film censors for a day - The Otago Daily Times
Subscribe to our blog
Stay up to date with the Classification Office blog.